THE SUITER FAMILY


Bill Sr. and Phyllis with their sons, Bill Jr. and Dave
Antonio's Pizza not only has a great recipe for spectacular pizza, but also for business success!
We are a family-owned business that builds personal relationships with our customers and our vendors. Founded in 1992, our owner Bill Suiter, Sr. opened the first Antonio's Pizza locations in Virden, Illinois and the Old State Capitol Plaza in Springfield. The recipes we use culminated from original ideas developed by Bill, Sr. and his friends who were "old school local Italian food veterans." While Bill, Sr.'s career in the food business spans over 50 years, sons Bill, Jr. and Dave Suiter now manage the day-to-day operations. Our father and sons team has expanded to five locations throughout Springfield. Antonio's success comes from creating flavorful and unique products for our customers because we insist on using quality ingredients throughout an extensive menu. Providing friendly customer service has also secured our spot as one of Springfield's most popular pizza places.
SIGNATURE PIZZAS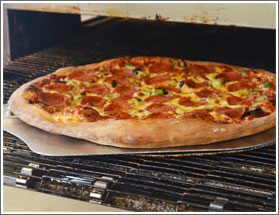 Antonio's pizza menu offers a full selection of unique flavors and tasty combinations that cater to almost anyone's preferences. Our special-recipe pizza dough is made fresh daily (never frozen!) in one location so we can ensure a quality, consistent crust for every pizza we create. The dough is proofed in-store to ensure maximum flavor and texture on both our original crust and the thick crust pizza. And we don't skimp on the toppings! We use a generous amount of only the freshest meat and veggies. We also offer a special Bianco sauce as a marinara substitute, which is the perfect blend of olive oil, garlic, basil, oregano, and Romano cheese.
COMMUNITY VALUES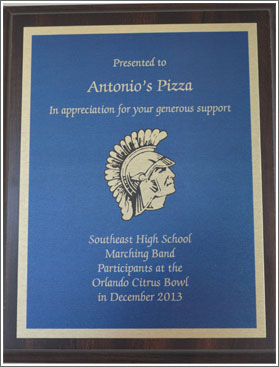 As a local Springfield business, we take pride in our community's economy and well-being. We buy the freshest meat from a local meat processor and purchase fresh produce from a local vegetable market. This helps us guarantee that we use only the freshest, highest quality ingredients throughout our menu. Also, we support local schools and community groups with fundraising activities and understand the importance of giving back to our community.
Antonio's Pizza believes in investing in our community and the future of our youth. We are proud to offer our support to the following organizations:
National High School Finals Rodeo (Major Sponsor)
Local Minor League Baseball (Major Sponsor)
Local Junior Hockey (Major Sponsor)
Local Schools/Churches
Crimestoppers
Salvation Army
Local Law Enforcement
Youth Sports
Springfield Recreation Department
Roman Cultural Society
Big Brothers/Big Sisters
ANTONIO'S GIFT CERTIFICATES/CARDS
Want to give Antonio's as a gift? You can purchase a gift card at any location!